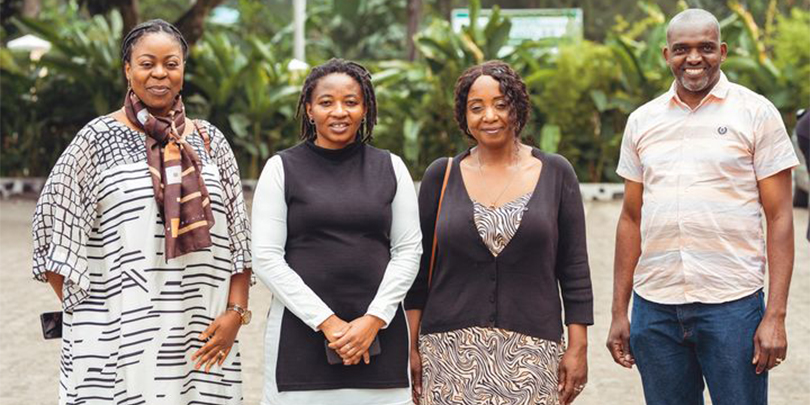 Lulu Mitshabu, Caritas Australia's program coordinator for the Democratic Republic of Congo, was among 40 aid workers to meet with Pope Francis during his visit to the African nation last week. 
Ms Mitshabu and the aid workers discussed the DRC's humanitarian crisis with the Pope during their January 31 meeting.
The Democratic Republic of Congo is facing the most complex and long-standing humanitarian crisis in Africa, and the fourth-largest internal displacement crisis in the world.
The near-constant fighting in the country has forced more than 500,000 people from their homes since March 2022.
Communities across North Kivu, South Kivu and Ituri provinces are facing repeated attacks on civilians, as well as looting and burning of shelters and homes.
The combination of conflict, COVID-19 and climate change has pushed more than 26 million people into acute food insecurity.
"The number of internally displaced people has gone through the roof. People have been displaced a number of times, and they've lost everything. The level of poverty is unbelievable," Ms Mitshabu said.
"Over 60 per cent of the population is under the age of 24. These kids have been displaced, they have no access to education, water or shelter, and they're facing relentless violence. While nobody is talking, the Democratic Republic of Congo is facing the worst crisis in the world."
Ms Mitshabu said she hoped the Pope's January 31-February 3 visit to the DRC would bring attention to the crisis.
"It is a forgotten crisis. We pray that people will try to respond and help with this conflict that has been going on for over three decades. Please, let's work together and help the people of the Democratic Republic of Congo."
Caritas is raising funds to provide emergency relief to families in the DRC. Details: caritas.org.au/donate/emergency- appeals/democratic-republic-of-congo
FULL STORY
Caritas Australia aid worker meets with Holy Father in Democratic Republic of Congo (Caritas Australia)