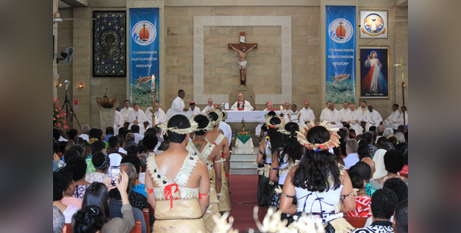 A Mass steeped in Fijian spirituality and tradition has opened the Federation of Catholic Bishops Conferences of Oceania assembly – a gathering its president hopes will turn "a new page" in the bishops' shared mission.
Sacred Heart Cathedral in Suva was overflowing on Sunday morning with hundreds of local worshippers, along with dozens of bishops and other assembly participants.
Cardinal Michael Czerny SJ, the prefect of the Vatican's Dicastery for Promoting Integral Human Development, celebrated the Mass.
Reflecting on the Gospel for the day, Cardinal Czerny said that "to be salt of the earth and light of the world, we must rediscover the beautiful strength of being siblings in Christ".
"As Pope Francis reminds us in Fratelli tutti, his most recent encyclical, we are called not only to do good but to be good, to want the good of others," he said.
"If, as baptised people, we do not learn to love as children of God and live as siblings in Christ, our existence falls into insignificance, and our witness as Church becomes insipid and dull."
Cardinal Czerny concluded his homily by praying that God may "abundantly enlighten and season this General Assembly of the Federation of Catholic Bishops Conference of Oceania".
Speaking after the Mass, FCBCO president and assembly host Archbishop Peter Loy Chong of Suva said he hoped that a pastoral plan for the Oceania region will emerge by the end of the week.
He said that will happen as a result of the bishops' deliberations, but also through their engagement with the document prepared on behalf of the People of God in Oceania for the Synod of Bishops for a Synodal Church – often called the Synod on Synodality.
A traditional Fijian welcoming ceremony followed the Mass, before the work of the assembly commenced last night.
The assembly runs until the evening of Friday, February 10. Stories and content will be shared during the week at www.fcbco.org, on the Australian Catholic Bishops Conference's Media Blog and through CathNews.
FULL STORY
Opening Mass celebrated for Oceania bishops' assembly (ACBC Media Blog)