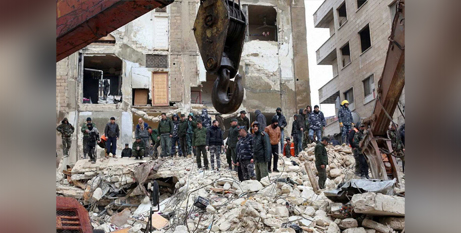 Pope Francis has expressed his "spiritual closeness" and "solidarity" with those affected by a pair of powerful earthquakes that struck Turkey and Syria yesterday. Source: CNS.
A 7.8 magnitude earthquake as measured by the United States Geological Survey hit southern Turkey before dawn yesterday, wreaking havoc in large areas of neighbouring Syria. It was followed by what the geological survey said was a separate 7.5 magnitude earthquake, less than 12 hours later some 100 kilometres away.
By mid-afternoon local time, the Associated Press was reporting that more than 2300 people were killed while hundreds remained trapped under the rubble of toppled buildings.
The Catholic charity Aid to the Church in Need said a Catholic priest was among the dead in Syria. Fr Imad Daher died in the collapse of the residence of retired Melkite Archbishop Jean-Clement Jeanbart of Aleppo, who was injured and hospitalised, the charity said.
Pope Francis was "deeply saddened" to learn of the "huge loss of life" caused by the disaster and offered his "heartfelt condolences" to those mourning losses, wrote Cardinal Pietro Parolin, Vatican Secretary of State, in telegrams to the Vatican's ambassadors in Turkey and Syria.
The Pope also prayed that emergency personnel would "be sustained in their care of the injured and in the ongoing relief efforts by the divine gifts of fortitude and perseverance."
According to Turkish President Recep Tayyip Erdogan, the earthquake is the largest disaster to hit the country since 1939, when a 7.8 magnitude earthquake killed more than 32,000 people and injured over 100,000. It is unclear how high the number of dead and wounded from yesterday's earthquakes will reach, he added.
The Middle East Council of Churches, representing Orthodox, Evangelical and Catholic churches, issued a statement calling on the international community to provide emergency aid to the region and to lift sanctions on Syria "so sanctions may not turn into a crime against humanity".
FULL STORY
Pope saddened by 'huge loss of life' after earthquakes in Turkey and Syria (CNS)
RELATED COVERAGE
Pope Francis, Syriac Patriarch call for prayers after devastating earthquakes in Turkey and Syria (CNA)
Pope grieving for victims of quakes in Turkey and Syria (Vatican News)