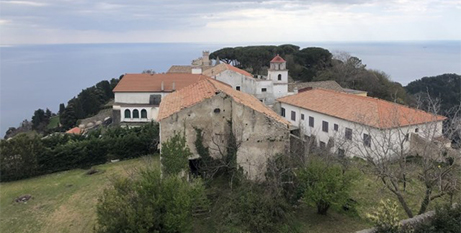 Two members of the Urbanist Poor Clare Sisters of Italy, who refused to abandon their 13th century convent slated for closure, have been dismissed by the Vatican from religious life. Source: Crux.
Sr Massimiliana Panza, an Italian, and Sr Angela Maria Punnacka, an Indian, left the Convent of St Clare in Ravello, overlooking Italy's prized Amalfi Coast, on Friday.
Temporarily remaining in the convent is Sr Maria Cristina Fiore, who turned 97 on January 13 and who's lived in the convent since 1955. She's now under the care of a new community of sisters, asked to look after her until a decision about her residence is made.
The three sisters, who became known as the "rebel nuns of Ravello", had been the only ones remaining in the convent, which, a half-century ago, was home to 42 Poor Clare nuns, as well as a primary school.
In 2021, the Vatican's Dicastery for Consecrated Life ordered the convent closed, with the support of the Urbanist Poor Clare Sisters of Italy, due to their declining numbers.
The convent's complex includes a church, a residence for the sisters, a guesthouse, a set of ruins and a vast open area overlooking the Tyrrhenian Sea. All told, the value of all the property belonging to the convent is estimated at somewhere between $50 and $60 million.
In a last-ditch effort to keep the convent open, the sisters proposed signing over ownership of the property directly to the Vatican, to be used for papal charities, while the sisters would be allowed to remain.
In effect, the Vatican said "yes" to receiving the property but "no" to the sisters staying on, ordering that each of the three relocate to three different convents in various regions of Italy. Sr Massimiliana and Sr Angela Maria refused, leading to the decree of expulsion from religious life.
FULL STORY
'Rebel nuns' of the Amalfi Coast expelled from convent, religious life (Crux)