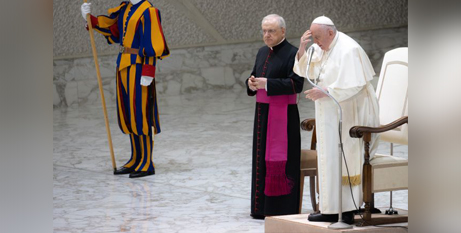 Pope Francis concluded his public audience yesterday with a prayer for the intercession of the Virgin Mary for the thousands of victims of a deadly earthquake in Türkiye and Syria. Source: CNA.
"Let's pray together so that these brothers and sisters can move forward from this tragedy. And we pray that Our Lady will protect them," the Pope said in the Vatican's Paul VI Hall yesterday.
He then led pilgrims at the event in praying a Hail Mary for all those affected.
A series of large earthquakes in parts of Türkiye and Syria on Monday have created massive destruction and killed 11,000 people, according to the latest available estimates.
"With deep feeling I pray for them and express my closeness to these peoples, to the families of the victims, and to all those who suffer because of this devastating natural disaster," the Pope said.
"I thank all those who are working to bring assistance and encouragement to them," he added, "and solidarity to those areas, in part already tormented by a long war."
On Monday, a "deeply saddened" Pope Francis sent "heartfelt condolences to those who mourn their loss" in telegrams addressed to the apostolic nuncios of Türkiye and Syria after the earthquake.
Locally, Jesuit Mission Australia has launched a Syria Earthquake Response Appeal to provide immediate assistance to those people most affected living in Aleppo.
"Our hearts break seeing the suffering of our sisters and brothers in Syria. Any donation towards the Jesuits' emergency efforts will help earthquake survivors overcome this trauma," said Helen Forde CEO of Jesuit Mission Australia.
The appeal will provide emergency support to people who have lost homes and their loved ones, made possible thanks to a partnership between Jesuit Mission Australia, Xavier Network and Jesuit Refugee Service (JRS) Syria.
Details: https://jesuitmission.org.au/earthquake/
To donate to Caritas Australia's appeal, visit: www.caritas.org.au/donate/emergency-appeals/turkey-and-syria-earthquake/.
FULL STORY
Pope Francis leads Hail Mary for victims of earthquake in Turkey and Syria (By Hannah Brockhaus, CNA)
Jesuit Mission Australia launches Syria Earthquake Response Appeal (Jesuit Mission)
RELATED COVERAGE
Pope appeals for help for Türkiye, Syria quake victims (Vatican News)