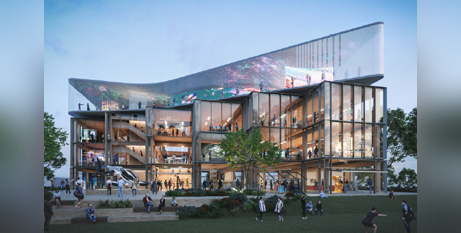 Australian Catholic University will establish a STEM Centre of Education Excellence at its Strathfield campus after securing a $45 million New South Wales Government grant.
The innovative purpose-built centre will provide a suite of educational opportunities to boost in-demand science, technology, engineering and mathematics (STEM) skills among students of all ages, community groups, residents and a wide range of industries in Strathfield and Western Sydney.
ACU Vice-Chancellor and President Zlatko Skrbis welcomed the $45,170,849 WestInvest Community Projects grant and said the unique centre would further cement the university's role of upskilling the community in vital STEM areas of learning.
"This grant is wonderful recognition of our strategic role in innovation in the field of education," Professor Skrbis said.
"The ACU STEM Centre of Education Excellence will spearhead our reputation as strategic leaders in STEM teaching and learning.
"It will help meet national STEM priorities, engage young people in this exciting area of learning, and prepare members of the local community to respond to changing workforce demands."
ACU executive dean of education and arts Mary Ryan said the STEM centre would complement the work of ACU's recently announced Australian Centre for the Advancement of Literacy.
"These two pioneering centres will put ACU further on the map as world leaders in educational excellence," Professor Ryan said.
Professor Skrbis said the centre was the result of great energy, commitment, and teamwork among ACU staff committed to advancing the university's role as a leader in pursuit of educational excellence.
"This centre will help us to make our mark in this exciting and dynamic field of teaching and learning," he said.
FULL STORY
(ACU) ACU to establish leading STEM Centre of Education Excellence following $45m NSW Government funding grant