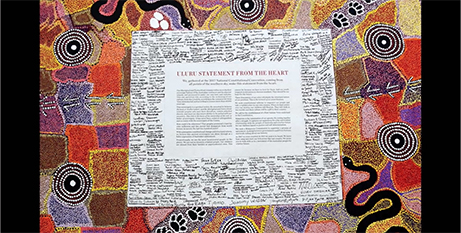 Brisbane Archbishop Mark Coleridge has spoken out in support of creating an Indigenous Voice to Parliament, ahead of a referendum on the subject due later this year. Source: The Catholic Leader.
"I'm strongly committed to the Voice. I've listened to important and convincing Indigenous voices on this topic," Archbishop Coleridge said.
Prime Minister Anthony Albanese has confirmed that sometime between August and November the Australian people will go to a referendum for the first time since 1999.
A question will be put whether we support changing the Constitution to recognise Aboriginal and Torres Strait Islander people by setting up a representative Voice to inform government and parliamentary decisions.
In September 2021, Archbishop Coleridge publicly endorsed the Uluru Statement From the Heart and made an historic commitment on behalf of the Catholic Church to back Indigenous leaders demanding a constitutional Voice.
His endorsement was founded on Scripture and a history of dispossession of First Nation peoples.
"God is going to take out of us that heart of stone and give us a heart of flesh – the heart of Jesus … that recognises the other as a human being," Archbishop Coleridge said, standing on Quandamooka country at the Santa Teresa Spirituality Centre in Ormiston, east of Brisbane.
"What has been done to the Indigenous peoples of this land could only have been done by denying that they were in fact human – they were at best perhaps subhuman.
"A heart of flesh says no to that, absolutely no."
Archbishop Coleridge said Australia will struggle as a nation unless there is genuine reconciliation, including taking account of past wrongs against First Nations people that include dispossession of land, frontier wars, and the impact of past assimilation policies.
FULL STORY
Church leader committed to an Indigenous Voice (By Mark Bowling, The Catholic Leader)