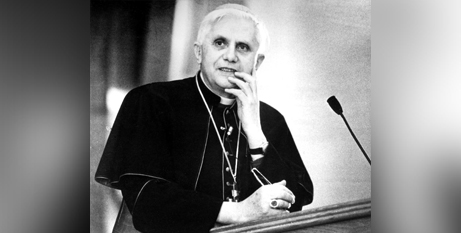 Six lectures of Cardinal Joseph Ratzinger were almost lost forever. But now they have been collected in a new book, The Divine Project: Reflections on Creation and Church. Source: CNA.
"It's a wonderful summation of what God intends in creating us and redeeming us, in six lectures. It's just a great find," said Fr Joseph Fessio, SJ, president of Ignatius Press. "It's written for students and spoken for students. It's really quite readable."
The future Pope Benedict XVI delivered the series of lectures in 1985 at the Bishop of Gurk's formation house at St George's Abbey in Längsee, in the southern Austrian state of Carinthia. They were recorded on audio cassettes but the tapes were misplaced for 30 years and forgotten. By chance, they were rediscovered.
"It was a treasure that was lost and found again," said Fr Fessio, who studied under Cardinal Ratzinger when the future pontiff was a theologian and university professor.
The lectures were first published in German in 2008, but Ignatius Press is the first to publish them in English, in a 177-page book.
Fr Fessio stressed Cardinal Ratzinger's emphasis on Scripture.
"He always goes back to Scripture when he is presenting on any topic," Fr Fessio said. "This is theological. It has to do with faith, of course. His interpretation of Genesis brings it right up to the present. He understands traditional scholarship and the historical-critical method, but he's able to make it come alive."
Other topics include technology and ecology, the cross and the Eucharist, religious pluralism, the teaching authority of the Church, and the nature of the Church.
FULL STORY
God, creation, and humanity: The 'lost lectures' of Benedict XVI collected in new book (By Kevin Jones, CNA)