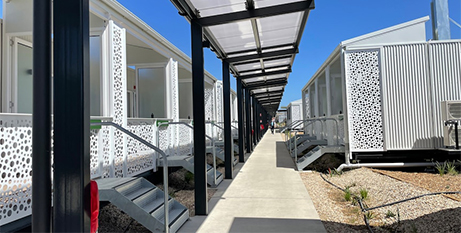 The Federal Government has considered transforming quarantine facilities built during the pandemic into emergency shelters for people fleeing domestic violence, according to documents obtained under freedom of information laws. Source: The Guardian.
The documents show the Government – which built the facilities so international arrivals could safely isolate for two weeks before entering the community – has also considered using them to house skilled migrants who can address critical skills gaps.
"We would be open to considering future use proposals from the state governments for accommodation for people affected by domestic and family violence who require emergency accommodation," said a briefing document prepared for ministers late last year."
The facilities collectively cost more than $1 billion and were designed to replace the initial hotel quarantine scheme, which some doctors described as a disaster. But the briefing document describes the quarantine centres as long-term assets that could be used to respond to many challenges beyond COVID-19.
Finance Minister Katy Gallagher said the Albanese Government "inherited these centres" and that it was determined to ensure they were available for future quarantine use "but also serve the community in times of need".
Ben Carblis, Mission Australia's manager of community services, said a "severe shortage" of housing meant many "women and children often stayed in a violent home just to avoid homelessness".
"The repurposing of these buildings into emergency accommodation would potentially help increase local accommodation for people escaping domestic and family violence," Mr Carblis said.
In October, the federal Government approved a request by the Victorian government to use the Mickleham quarantine facility in response to devastating floods.
More than 200 people stayed at the $560m facility, which will be handed back to the federal Government next month.
FULL STORY
Labor considered turning Covid quarantine facilities into domestic violence shelters (The Guardian)