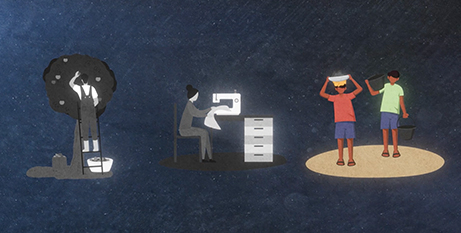 All undergraduate students at Australian Catholic University will complete training to identify and respond to modern slavery following a pilot project with the Sydney Archdiocese. Source: Australian Catholic Anti-slavery Network.
Modern slavery content has been formally introduced into ACU's core curriculum, which all undergraduate students are required to undertake as part of their various degrees.
The project, which includes video resources for wider use, is a collaboration with ACU's Stakeholder Engaged Scholarship Unit in conjunction with ACU's Faculty of Theology and Philosophy and the Anti-Slavery Taskforce of the Catholic Archdiocese of Sydney. The project supports both organisations' shared commitment to raising awareness of modern slavery.
Approximately 700 students across the university's seven campuses have accessed the new training modules since the pilot program began in the second half of last year.
Anti-Slavery Taskforce executive manager Jenny Stanger said the pilot program with ACU was a significant milestone in raising awareness of modern slavery with future workers.
Students investigate four principal areas, including defining and measuring modern slavery; the root causes and contributing factors of modern slavery; intersections of modern slavery with economic and labour policy, environmental degradation, human rights, and development; and responding to modern slavery.
"The topic of modern slavery is introduced to ACU students before they embark on their professional journeys in business, healthcare, law, social work and many other areas that now include modern slavery accountabilities," Ms Stanger said.
"The content prepares students to identify and respond to severe forms of exploitation and slavery-related crimes which they may encounter in the workforce and their personal lives."
ACU academic Blake Wassell said ACU's core curriculum was a distinctive pair of educational units that invited students to relate the Catholic tradition to significant and international contexts, including the proliferation of modern slavery.
FULL STORY
Modern Slavery Curriculum Pilot at ACU (Australian Catholic Anti-slavery Network)