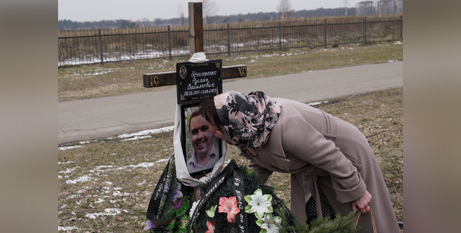 Civil and religious leaders around the world observed the one-year anniversary of the outbreak of war in Ukraine on Friday, calling for an end to hostilities and gathering in prayer to honour victims of the conflict and to beg God for peace. Source: Crux.
In a tweet marking the February 24 anniversary, Pope Francis said, "One year ago, the absurd war against Ukraine began."
"Let us remain close to the tormented Ukrainian people, who continue to suffer, and let us ask ourselves: Has everything possible been done to stop the war? Peace built on rubble will never be a true victory," he said.
In addition to public pleas for peace on social media, the war's anniversary was also marked by a series of prayer vigils in Ukraine, Italy and beyond.
A 12-hour prayer vigil was organised in Kyiv by Major Archbishop of the Ukrainian Greek Catholic Church, Sviatoslav Shevchuk, and took place at the Patriarchal Cathedral of the Resurrection of Christ, lasting from noon to midnight.
Archbishop Shevchuk insisted that the war did not begin a year ago, but in 2014 with Russia's annexation of Crimea and its invasion of the eastern regions of Luhansk and Donetsk.
Orthodox leaders also weighed in, with the Orthodox Public Affairs Committee issuing a statement calling for "an immediate ceasefire" and the prompt withdrawal of all Russian military and paramilitary troops from Ukrainian territory.
The committee also criticised Russian Orthodox Patriarch Kirill's defence of the invasion, decrying "the unchristian support of the war" that Kirill has had from the beginning.
The European bishops also marked the anniversary, assuring Ukraine that throughout the Lenten season, "Holy Mass will be celebrated in each country throughout Europe in turn to invoke peace in Ukraine and pray for those who have died as a result of the war".
FULL STORY
Ukraine war anniversary marked by prayers, vigils around the world (By Elise Ann Allen, Crux)