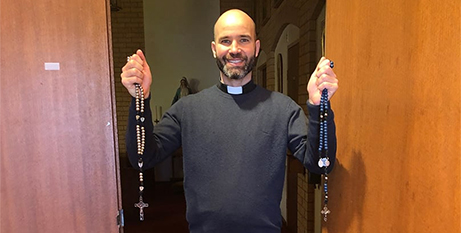 A young priest undergoing treatment for a rare brain cancer says he's grateful for the prayers of the regional New South Wales diocese where he ministers. Source: The Catholic Weekly.
Last September, Fr Reece Beltrame, 40, was diagnosed with Gliobastoma (GBM), a highly aggressive and recurring cancer which has an average survival time of about 18 months. Practically overnight his busy ministry as Wagga Wagga's cathedral parish administrator gave way to a ministry solely of offering up his sufferings for the good of others.
Catholics across his diocese and beyond joined in a novena, ending on February 19, the birthday of Servant of God Eileen O'Connor, asking God to restore his health through her intercession.
Fr Beltrame planned a three-hour trip to Sydney to conclude the novena with Mass at the tomb of the founder of the Our Lady's Nurses for the Poor.
"One of the crosses I have is that I can't read large amounts … But I'm able to pray devotions, so prayers like the Rosary, the Divine Mercy Chaplet and meditation are what I pivot on [through the day]," he says.
"I'm doing very little now in terms of public ministry but it's a very privileged position to offer up one's sufferings for the salvation of souls; for sinners, for conversions, for vocations, for the Church, for my parishioners and all those people who are praying for me and supporting me in various other ways."
The novena is the second for Fr Beltrame. Organised by a group of clergy and laity, it was promoted by the diocese.
FULL STORY
Priest's eyes still fixed on mission (By Marilyn Rodrigues, The Catholic Weekly)