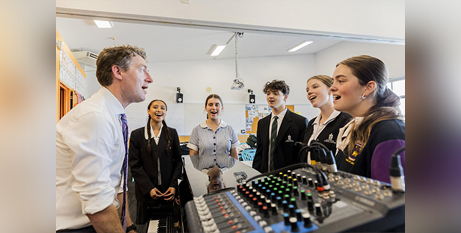 In just 20 weeks, pilgrims from Broken Bay Diocese will leave for World Youth Day Lisbon singing a new song written by one of their pilgrim coordinators and sung and recorded by fellow students. Source: Broken Bay News.
Called Magnify, the song captures the theme and purpose of the Broken Bay Magnify pilgrimage.
The music video has been launched across all Catholic Schools in the diocese, social and music platforms and on the diocesan website.
Simon Hyland, a WYD co-ordinator and deputy workstream lead – evangelisation for Catholic Schools Broken Bay (CSBB), wrote the song, which is sung by five senior students from three schools in the diocese.
"As part of our planning for WYD I thought it would be great to not only capture the theme but help deepen everyone's experience," Mr Hyland said.
"We know from Luke's Gospel that Mary set off on her journey to meet Elizabeth with purpose, and a sense of humility and selflessness.
"We also know that when Mary and Elizabeth greeted one another, Elizabeth's child 'leaped for joy' in her womb. It is this joy I have tried to capture in the song that reflects our encounter with Jesus."
The lyrics are based on the Magnificat, with the verse featuring phrases from the hymn.
"The song is really inspiring," said Bishop Anthony Randazzo, who will lead about 170 pilgrims and leaders to Italy, visiting the cities and towns of many saints, before joining other pilgrims from around the world and the Pope in Portugal for WYD23 Lisbon in August.
See the video clip of Magnify. Magnify (Magnificat) is also available on Apple Music, iTunes, Amazon and Spotify.
FULL STORY
Broken Bay talent magnified in new WYD song (Broken Bay News)