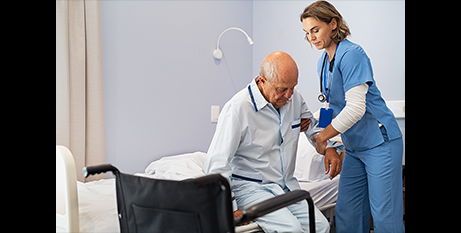 Around-the-clock nursing in aged care and mandated time spent caring for each nursing home resident will create a shortfall of about 25,000 workers in two years' time. Source: The Age.
Internal Health Department documents from late last year, published last week under freedom of information laws, reveal the Albanese Government's election promise to implement the two key recommendations of the aged care royal commission will require 14,626 new workers in 2023-24 and 25,093 the year after.
The internal briefing note listed several initiatives that were likely to close that gap, including migration, pay rises, increased workforce utilisation and fewer staff exits. But they amounted to only 6100 new workers under the calculations from November, leaving thousands more places to be filled.
The Albanese Government's aged care reforms will require aged care homes to have a registered nurse on site 24 hours a day from July and mandate a minimum 200 care minutes per resident each day from October to improve the ailing sector.
But they will also exacerbate chronic workforce shortages. Including the impact of the new measures, the Department last year calculated the overall shortfall would be 25,437 nurses and care workers in the next financial year, blowing out to 39,738 in 2024-25.
A spokesman for Aged Care Minister Anika Wells said that gap had shrunk by more than 3000 since November, with the Department's most recent figures indicating the overall shortfall for the next financial year was now 21,700 workers and could fall further when the next quarter's data was finalised.
He also said the worker shortage did not appear overnight, blaming "years of inaction and a lack of planning from the former government".
FULL STORY
Aged care reforms will require 25,000 new workers over two years: internal documents (By Natassia Chrysanthos, The Age)