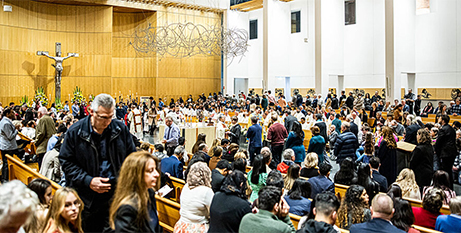 Parramatta Bishop Vincent Long OFM Conv has formally announced a Diocesan Synod will take place to "chart a new pathway for the diocese". Source: Catholic Outlook.
In a statement published on the Catholic Outlook website yesterday, Bishop Long said shortly after his 2016 installation as Bishop of Parramatta, he had "desired to hold a Diocesan Synod in order to develop a pastoral plan" to "chart a new pathway for the diocese".
"Today, after much prayer and consultation, I formally announce the convocation of the synod in the Diocese of Parramatta. This will be the first synod in the history of our young diocese. Like the national and universal synods, ours will be also held in two phases," Bishop Long said.
"The first assembly will be held from Thursday 12 to Sunday 15 October and the final assembly will be held near the middle of next year.
"Recognising the fruits of the Plenary Council and in the spirit of synodality, to which you have already contributed so deeply, I invite you to walk with me as we discern further a framework by which we can revitalise our Church in the Diocese and discover together a path of renewal for all of us."
Bishop Long said he had appointed a preparatory commission to lead the synod, chaired by Sr Ailsa Mackinnon RSM, Chancellor of Ministries and Qwayne Guevara, as the lead facilitator.
"Pope Francis has called the entire People of God into a journey of listening and discernment, inviting the Holy Spirit to guide us towards personal conversion and renewal in the Church," Bishop Long said.
"Pope Francis explains that 'The journey of synodality is the journey that God wants from His church in the third millennium'."
FULLS TORY
Bishop Vincent's formal announcement of the convocation of a Diocesan Synod (Catholic Outlook)