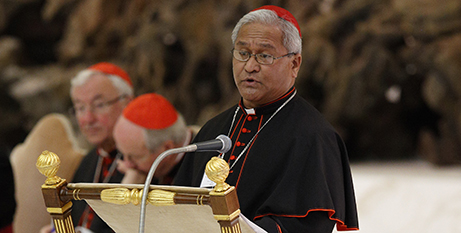 Increasingly frequent and severe weather events are leaving Pacific Island nations struggling to rebuild but accessing funds to adapt to climate change is a challenge, writes Tongan Cardinal Soane Patita Paini Mafi. Source: Eureka Street.
I was raised on the beautiful island of Tonga. When I was a child, my parents and grandparents would come out every morning to look at the horizon. They would look at the clouds and see the patterns to understand what lay before us that day.
Nowadays, things are different. Children playing and swimming at the beaches see the patterns in the clouds and run back to alert us to a disaster. This is now becoming a regular occurrence.
After storms, I visit my people and I am always lifted by their resilience and their spirit of helping each other. But when I delve deeper, they share their real emotions, which are full of pain, heartache and fear. You see, in the Pacific our people are strong. We are resilient, but even we have our limits. And we have reached our limit.
Nowadays, when I wake up in the morning and look out to sea, I see two clouds. Two dark and looming clouds. One is climate change. This cloud brings rising sea levels, more frequent cyclones and king tides like we have never seen before.
It is joined by another cloud. This one is debt. Increasingly frequent and severe weather means that Pacific Island nations are struggling to rebuild. We feel like we are going backwards.
Vital infrastructure such as homes, bridges, farms and fisheries take years to rebuild while crops and livestock take a similar period to restore. It is extremely expensive and it is money we simply don't have.
Last year at the United Nations climate talks, nations agreed on a Loss and Damage fund; a fund created to compensate developing countries impacted by climate change, like my home of Tonga in the Pacific Island nations.
We don't contribute much to climate change. In fact, we contribute less than 0.5 per cent of all global emissions. But we certainly pay for it in our futures, and the futures of our children. We need compensation for this injustice.
Cardinal Soane Patita Paini Mafi is Tonga's first cardinal and the president of Caritas Oceania.
FULL STORY
Storm brewing over Pacific nations as climate and debt crises collide (Eureka Street)