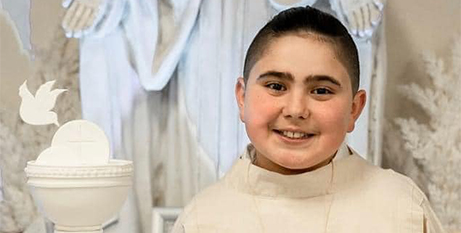 Gold Coast helicopter crash victim Nicholas Tadros has received nearly $500,000 in support from a Sydney parish, on top of the prayers they've raised. Source: The Catholic Weekly.
The 10-year-old parishioner and altar server at St Padre Pio Parish, Glenmore Park, lost his mother Vanessa Tadros, an event planner and stylist, in a helicopter crash at Sea World theme park on January 2.
He suffered serious injuries. Four people were killed in the collision between two helicopters on scenic flights.
An appeal was raised to assist with Mrs Tadros' funeral costs. Nicholas' karate teacher Andrew Nasr launched a second appeal in February to help his father, Simon Tadros, a truck driver, who has not worked since the accident.
Mr Tadros needed help to support the medical costs his son is expected to require for the rest of his life.
Parish priest Fr Suresh Kumar said the parish, including Nicholas' school, had rallied to pray from the first day and now are also supporting the fundraising appeal.
"It brought the community together to pray because it was all we could do at that time, it is what they needed the most and we also needed to do something," he said.
"People were devastated, especially the children who studied with him. Nicholas was known to everybody because he's also an altar server.
"We believe that only God can change the situation and we are still at the feet of the Lord so much."
FULL STORY
Parish rallies for Nicholas Tadros (By Marilyn Rodrigues, The Catholic Weekly)