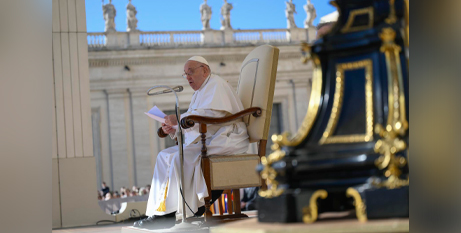 Being an apostle does not mean climbing up the Church's hierarchy to look down on others but humbling oneself in a spirit of service, Pope Francis said yesterday. Source: CNS.
During his general audience in St Peter's Square, the Pope explained that apostleship as understood by the Second Vatican Council produces an equality – rooted in service – among laypeople, consecrated religious, priests and bishops.
"Who has more dignity in the Church? The bishop? The priest? No, we are all Christians at the service of others," he said. "We are all the same, and when one part (of the Church) thinks it is more important than the others and turns its nose up (at them), they are mistaken."
Vatican II, the Pope said, did not focus on the laity's relationship with the Church's hierarchy as a "strategic" move to adapt to the times, but as "something more that transcends the events of that time and retains its value for us today".
The Second Vatican Council's Decree on the Church's Missionary Activity states that collaboration between the hierarchy and the laity is essential for the Church to fully live out its mission.
Viewing Christian life as a chain of authority "where the person on top commands the rest because they were able to climb up (the ladder)" is "pure paganism", the Pope said.
Reflecting on the passage from Luke's Gospel in which Jesus sends out 72 apostles ahead of him two-by-two, Pope Francis said that service is the vocation Jesus gives to all, including "to those that seem to be in more important positions".
"Listening, humbling yourself, being at the service of others: this is serving, this is being Christian, this is being an apostle," he said.
The Pope encouraged Christians to pray for members of the Church's hierarchy who appear conceited since "they have not understood the vocation of God".
FULL STORY
To be an apostle is to serve, not move up Church's hierarchy, Pope says (By Justin McLellan, CNS)