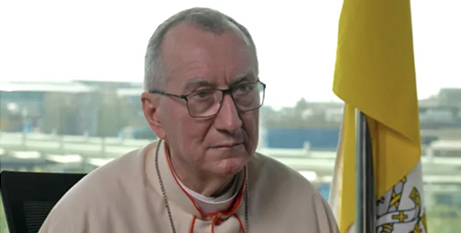 The Vatican's Secretary of State said there's a need for dialogue with the German bishops after a recent vote in favour of blessing same-sex unions, insisting that the move does not align with official Catholic doctrine. Source: Crux.
"A local, particular Church cannot make a decision like that which involves the discipline of the Universal Church," Italian Cardinal Pietro Parolin said on Monday.
"There must certainly be a discussion with Rome and the rest of the Churches in the world … to clarify what are the decisions to make," Cardinal Parolin said.
Last weekend, the influential and wealthy Church in Germany concluded its controversial "Synodal Path" reform process, a multi-year consultation launched in 2019 and aimed at giving lay people a stronger voice after the country's devastating clerical sexual abuse crisis further emptied church pews.
The final meeting in the process brought together more than 200 representatives of Catholic life in Germany, who voted overwhelmingly in favour of same-sex blessings but delayed the start date until March 2026.
While these blessings are already routinely given by many congregations and pastors in Germany, they are formally banned by the Church, a position the Vatican reiterated in a statement in 2021.
Despite the Vatican's position, 176 participants in Germany's concluding Synodal Path meeting voted in favour of the blessings.
Participants also voted in favour of offering communion to divorced and remarried couples with no annulment, and they urged Pope Francis to reconsider the requirement of priestly celibacy.
Cardinal Parolin reiterated Rome's position on the blessing of same-sex couples by referring to the 2021 Vatican statement, saying, "The position of Rome is that" and that the vote of the German bishops must be inserted into Pope Francis's broader Synod of Bishops on Synodality, which is touching on similar themes and will conclude in 2024.
FULL STORY
Pope's top aide says Germany can't go it alone on blessing same-sex unions (By Elise Ann Allen, Crux)