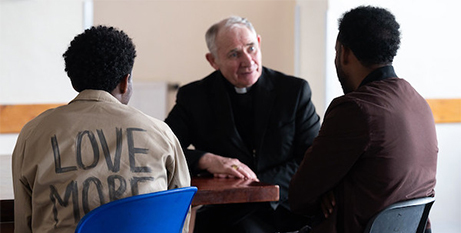 The bishops of England and Wales have published a document on the Catholic response to refugees and migrants, days after the bishops conference's lead on the subject criticised the British Government's Illegal Migration Bill. Source: The Tablet.
The new document, Love the Stranger, from the conference's department for international affairs, outlines 24 principles derived from historic Catholic social teaching.
These emphasise the innate worth and rights of each person, and the responsibility of both government and civil society to uphold them.
Migration policy, the document says, must respect these fundamentals, and it calls on the government "to avoid the use of immigration detention, arbitrary expulsion and other practices which violate human dignity".
This follows the announcement last week by the home secretary, Suella Braverman, of legislation which would render all arrivals via illegal routes – most notably those crossing the Channel in small boats – as automatically inadmissible and subject to detention and removal to a third country.
Bishop Paul McAleenan, an auxiliary in the Archdiocese of Westminster and the conference's lead for migrants and refugees, said that this treats individuals "as a problem to be solved rather than brothers and sisters towards whom we have responsibilities".
In a foreword to Love the Stranger, Bishop McAleenan describes "our Christian duty to look beyond such labels and see the person who has left their homeland in search of a better life".
The document details the Church's teaching on humanity's common responsibility for one another and on the "universal destination of goods". Richer nations, it says, cannot enjoy exclusive access to their riches.
"Rather than begin with our own national systems … we are challenged to start with a global approach to upholding human dignity and to work from there."
The bishops advocate stronger protections for the safety of migrants and warn against the exploitation of migration to political ends: "Governments have to balance the protection of the rights of their citizens with their duty to welcome migrants and refugees, but it is important that we do not allow this to result in hostility."
FULL STORY
Bishops emphasise dignity in new migrants document (By Patrick Hudson, The Tablet)