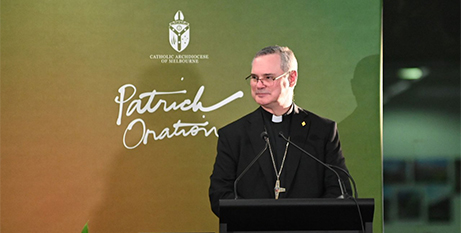 In his 2023 Patrick Oration, Melbourne Archbishop Peter A Comensoli called on the People of God to "rediscover the young Church". Source: Melbourne Catholic.
Archbishop Comensoli delivered the fourth annual Patrick Oration at the Catholic Leadership Centre in East Melbourne on March 17, the feast day of the Melbourne Archdiocese's patron saint, St Patrick.
He observed that when the question of young people in the Church is raised, it is often framed in terms of "Where have all our young people gone?"
"Every time that question is asked in Church circles, there is a poignancy to it," he said. "Parents and grandparents, and older generations of Catholics, struggle with it, are perplexed by it, lament over it. Where are all our young people?"
The question of young people in the Church has been, by far and wide, the most asked question in the life of the Church over the past half century, Archbishop Comensoli said.
"There is an answer – in fact many answers – to the question as to where some of our young people are," he said. "To be sure, they are not gathering in the numbers that Ed Sheeran can attract, but they are around. On any given day, you may be quietly surprised just how many are engaging earnestly and fruitfully with their faith. There are young Catholics searching for a relationship with Christ and a place in the Church."
Archbishop Comensoli pointed to the many communities and initiatives that do attract young people, seeing in them signs of hope. He also wondered whether the Church has been asking the "wrong questions" and looking for solutions in the wrong places. While young people are absent from "the conventional ways of being parish", that doesn't mean they are nowhere to be found.
"A young person's horizon looks to how he or she belongs, not where … Belonging, for them, is considerably more fluid and largely centred on culture. Young people find themselves, and their connections, by finding communities of common interest, often enough within digital locations. So, expecting young Catholics to go to our faith locations misses where they are at and how they get there."
FULL STORY
Rediscovering 'the young Church': Archbishop Comensoli delivers the 2023 Patrick Oration (Melbourne Catholic)