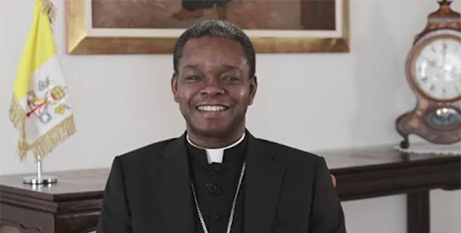 Addressing the United Nations Human Rights Council in Geneva, the Vatican representative at the UN has highlighted the ongoing plight of people being persecuted for their religious beliefs. Source: Vatican News.
Archbishop Fortunatus Nwachukwu, Secretary of the Dicastery for Evangelisation, stressed the desire of the Holy See to bring to the attention of this council "the plight of many individuals and communities who endure persecution because of their religious beliefs."
The Archbishop, in reiterating Pope Francis' words, noted that peace also calls for the universal recognition of religious freedom. It is troubling that people are being persecuted simply because they publicly profess their faith, he said, noting that in many countries religious freedom is limited. "About a third of the world's population lives under these conditions."
Archbishop Nwachukwu discussed the tightening of repressive measures and abuses witnessed in recent years, "including by national authorities against religious minorities in many countries across the world". In fact, he added, "believers are often denied the right to express and practice their faith, even when this does not endanger public safety or violate the rights of other groups or individuals".
He added that this violence is also perpetrated towards places of worship and religious sites as they are desecrated and destroyed, and religious leaders violently attacked.
"Of no less concern is the condition of believers in certain countries where, behind the façade of tolerance and inclusion, discrimination is perpetrated more subtly and insidiously" he added.
"Religious freedom, which cannot be reduced simply to freedom of worship, is one of the minimum requisites for a dignified way of life."
FULL STORY
Holy See draws attention to people facing religious persecution (Vatican News)