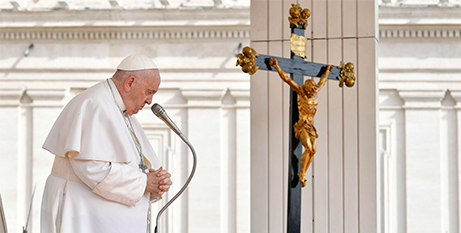 Pope Francis has updated the procedures for investigating sexual abuse allegations, specifying that leaders of international Catholic lay associations and movements have the same responsibilities over their members that bishops have over diocesan priests. Source: CNS.
The updated version of Vos Estis Lux Mundi (You are the light of the world), published on Saturday, also expanded the categories of victims covered by the regulations to include vulnerable adults.
The original text spoke of the crime of "sexual acts with a minor or a vulnerable person." The updated text reads, "a crime against the Sixth Commandment of the Decalogue committed with a minor, or with a person who habitually has an imperfect use of reason, or with a vulnerable adult".
"Anything that expands the categories of those who should be protected is to be welcomed," Oblate Father Andrew Small, secretary of the Pontifical Commission for the Protection of Minors, said.
Bishop Juan Ignacio Arrieta, secretary of the Vatican Dicastery for Legislative Texts, said the updated document was based on four years of experience operating under the previous version, but the update also needed to incorporate changes Pope Francis made in 2021 to the Code of Canon Law's "Book VI: Penal Sanctions in the Church."
The new rules go into effect on April 30.
Cardinal Sean O'Malley, president of the Pontifical Commission for the Protection of Minors, said in a statement that with the updated text, "the Church's ongoing work of preventing sexual abuse by ministers of the church received a further boost."
Updating the norms, "Pope Francis has reconfirmed the serious responsibilities on bishops and others in leadership positions to ensure robust safeguarding policies and procedures are in place and are effective," Cardinal O'Malley said.
FULL STORY
Pope issues updated 'Vos Estis' text for handling abuse cases (By Cindy Wooden, CNS)
RELATED COVERAGE
Cardinal Cupich: Pope's 'Vos Estis' update seeks to give justice to abuse victims (Vatican News)
Pope Francis extends 'Vos estis' decree to counter both lay and clerical abuse (CNA)