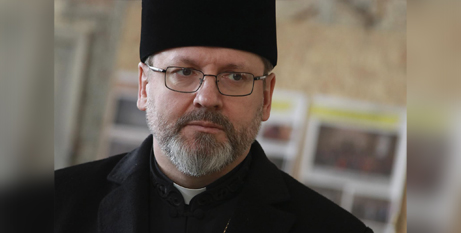 The head of the Ukrainian Greek Catholic Church has defended the Vatican's diplomatic stance on the war in his country, saying that Pope Francis "has been acting on behalf of suffering Ukraine". Source: The Tablet.
Major Archbishop Sviatoslav Shevchuk said that the "neutrality of the Holy See is not accepted in Ukraine" but that it was essential to its role "as supreme arbiter between nations and Churches".
In an interview with the Croatian Catholic newspaper Glas Koncila, published last week, he said that the Vatican had a distinct position in international relations.
"This diplomacy must, almost always, be above conflict," he said, "in order to be able to be the last point of resolution to those conflicts as a supreme mediator, as a supreme servant for peace in the world."
This meant that the Pope "should be equally distanced from both sides yet also equally close to both, in order to understand, mediate and serve".
Archbishop Shevchuk's remarks follow sharp criticism of papal diplomacy by Ukraine's foreign minister, Dmytro Kuleba, who his month said that he does not count Francis among his country's allies.
The archbishop conceded that the Pope's stance was difficult for his Church, the largest of the Eastern Catholic Churches in communion with Rome, which accounts for about nine per cent of Ukraine's population.
"Everyone is expecting that the Holy Father will condemn the aggressor.
"But as Catholics, we constantly have to explain to our Orthodox brethren and other Christians and ordinary citizens of Ukraine: let the Holy Father perform his duty as supreme arbiter, because we can also benefit from his position as mediator."
Although Archbishop Shevchuk has been broadly supportive of Pope Francis, he has expressed frustration with the Vatican's attitude towards arms shipments, remarking after a visit to Rome in January that "if anybody knows how to stop Russian armoured vehicles without weapons, we will be grateful to hear".
FULL STORY
Ukrainian archbishop defends Vatican neutrality (By Patrick Hudson, The Tablet)