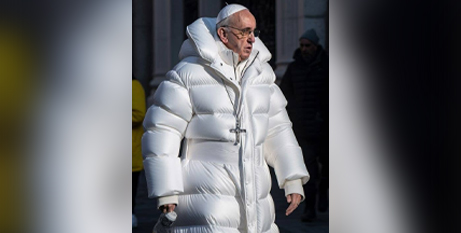 Pope Francis said emerging technologies such as artificial intelligence and machine learning could be beneficial to society as long as they respect human dignity. Source: CNA.
"The fundamental value that we must recognise and promote is that of the dignity of the human person," the Pope said on Monday during an audience at the Vatican with participants in the Minerva Dialogues.
Organised by the Dicastery for Culture and Education, the Minerva Dialogues is a meeting of scientists, engineers, business leaders, lawyers, philosophers, Catholic theologians, ethicists, and members of the Roman Curia to discuss digital technologies.
"I encourage you, in your deliberations, to make the intrinsic dignity of every man and every woman the key criterion in evaluating emerging technologies," Francis told participants. "These will prove ethically sound to the extent that they help respect that dignity and increase its expression at every level of human life."
Pope Francis was recently the subject of a fake photo created through artificial intelligence. An image of the Pope wearing a white puffer coat went viral on the social media sites Reddit and Twitter over the weekend, with many people appearing to mistake the false photo for an authentic snapshot.
Technology has been immensely beneficial to humans, especially in the fields of medicine, engineering, and communications, Pope Francis observed on Monday.
Science and technology, he said, have practical benefits and are evidence of man's ability "to participate responsibly in God's creative action."
"From this perspective," the Pope said, "I am convinced that the development of artificial intelligence and machine learning has the potential to contribute in a positive way to the future of humanity; we cannot dismiss it.
"At the same time, I am certain that this potential will be realised only if there is a constant and consistent commitment on the part of those developing these technologies to act ethically and responsibly."
FULL STORY
Pope Francis: An ethical AI respects human dignity (By Hannah Brockhaus, CNA)
RELATED COVERAGE