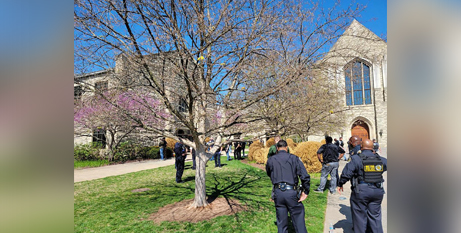 Leaders of the Nashville Diocese expressed sadness and shock over a school shooting at a Christian primary school in the Tennessee capital, while offering prayers for the victims, their families and the entire school community. Source: Crux.
"My heart breaks with the news of the school shooting at The Covenant School," Bishop Mark Spalding said in a statement. "Let us pray for the victims, their families, and the Covenant Presbyterian community."
Three students and three adults were killed at the Presbyterian primary school on Monday. The shooter was killed by police at the scene.
Nashville diocesan chancellor Brian Cooper said the shooting was a painful reminder of what's possible.
"The news of the shooting and loss of lives at The Covenant School this morning is deeply sad and shocking," Mr Cooper said in a statement. "It is a painful reminder that these horrific events can happen at any time. Our own city is not immune to this violence."
Authorities identified the suspect as Audrey Hale, 28, who identified as transgender and was a former student at school. Hale had conducted surveillance and had detailed maps of the school, and a manifesto, according to authorities.
Authorities said Hale had two assault-style rifles and a handgun. Hale shot through a door to gain access to the school, Nashville Police Chief John Drake said, adding that the shooter was "prepared for a confrontation with law enforcement" and "prepared to do more harm".
There have been 13 school shootings in the United States this year that resulted in injuries or death, according to Education Week, a non-profit news organisation that covers education.
FULL STORY
Nashville bishop offers prayers for victims of Covenant School shooting (By John Lavenburg, Crux)