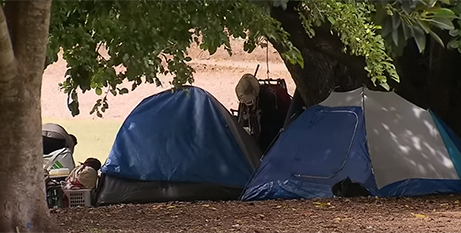 As Queensland's housing crisis deepens, the Church and its agencies are playing a key, frontline role providing services and seeking new ways to accommodate the homeless. Source: The Catholic Leader.
The situation is dire, with more Queensland families being forced to live in tents, cars and motel rooms.
The state's homelessness rate has risen by 22 per cent since 2017, compared to only eight per cent across Australia.
There are 300,000 Queenslanders experiencing housing stress, according to a new Queensland Council of Social Services report Town of Nowhere, a blueprint to the crisis, with support from the St Vincent De Paul Society and other Catholic agencies.
As the Palaszczuk Government prepares for its housing summit today, the St Vincent De Paul Society and the Brisbane Archdiocese were working on major projects with a potential to unlock available land and property and provide more affordable social housing for individuals and families desperate for a home.
"We are currently working on our Society's biggest housing project yet in our 129-year history; looking to build 500 homes across the state over the next five years to provide shelter to Queensland families in need," St Vincent de Paul Queensland chief executive officer Kevin Mercer said.
"We are working alongside the state government and the Brisbane Archdiocese to help make this project happen."
Brisbane Archdiocese confirmed it is "actively engaged" with the Government, discussing the release of Church-owned land across south east Queensland suitable for prefabricated, social affordable housing.
"We have unearthed opportunities. We are looking at how we can make that work for everyone," Brisbane archdiocese strategic development manager Mark Burroughs said.
Church agencies including Centacare, Vinnies, Brisbane Catholic Education and Yeronga Parish had also identified five Church-owned dwellings empty and suitable to be leased as crisis family accommodation as part of the government's Help to Home Scheme.
The archdiocese is also examining ways to make one large inner-city Brisbane site available for short-term, homeless accommodation.
FULL STORY
Church responds as housing crisis grips Queensland (By Mark Bowling, The Catholic Leader)