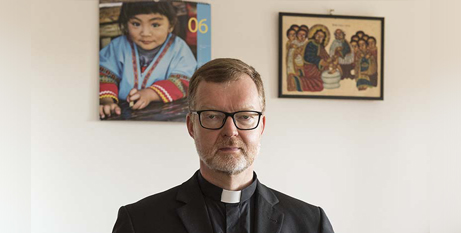 A founding member of Pope Francis' child protection advisory board has resigned, citing a host of problems inside the commission and in its relationship with the Vatican bureaucracy. Source: Crux.
In an unusually frank resignation note, Fr Hans Zollner SJ cited inadequate financial accountability, insufficient transparency about decision-making and a lack of clarity about staff hiring and the board's relationship with the Holy See's sex abuse office.
Pope Francis announced the creation of the Pontifical Commission for the Protection of Minors in 2013 to advise the Vatican on best practices to prevent clergy sexual abuse. He named Boston Cardinal Sean O'Malley as the commission's head.
The board has gone through several iterations since then, most significantly when another founding member, Irish abuse survivor and advocate Marie Collins, resigned in frustration in 2017 over Vatican stonewalling on the commission's proposals.
Fr Zollner's departure suggested a similar, but broader degree of frustration that touched on internal governance issues as well.
He pointed to a difficult relationship with the Dicastery for the Doctrine of the Faith, which since 2001 has processed all sexual abuse cases around the globe. The office was known to be less-than-enthusiastic about proposals put forward by the commission or requests for cooperation. Last year, Francis nonetheless placed the commission, which had existed as an ad hoc body that reported directly to the Pope, inside the Dicastery.
At the time, Cardinal O'Malley said the move would give the commission more institutional weight in the Vatican. But Fr Zollner complained that nearly a year later, there were still no regulations governing the relationship between the two entities.
Fr Zollner, a German Jesuit and psychologist, heads an academic institute at the Pontifical Gregorian University that trains church personnel in child protection strategies. The institute recently beefed up its mandate and now awards academic degrees in safeguarding.
FULL STORY
Jesuit safeguarding expert steps down from papal commission (By Nicole Winfield, AP via Crux)
RELATED COVERAGE
Jesuit safeguarding expert steps down from papal commission (OSV News)