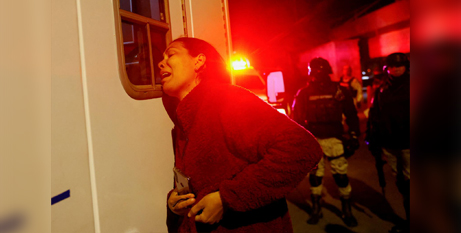 Catholic leaders have expressed sorrow and outrage after a fire in a Mexican immigration detention centre claimed the lives of at least 40 migrants who appeared to be abandoned by guards as flames engulfed their locked cells. Source: OSV News.
Catholic leaders and laity working on migration matters in the United States, Mexico and across Central America also issued calls for a rethinking of immigration policy that criminalises migrants streaming through Mexico toward the US.
"The pain and suffering from abandoning their homes is already too much, and we cannot allow their transit through Mexico to become an ordeal for those who leave their family and country in search of a better life," said a statement from the Mexican bishops' conference.
"As the Church, we will always remain at the side of those who suffer most, of the excluded, of the poor and the neediest persons."
The blaze broke out in the facility near the US border in Ciudad Juárez on March 27 in a section of the centre holding 68 male migrants, according to Mexico's National Immigration Institute. The victims hailed from across Latin America, including 28 Guatemalans, 12 Venezuelans, 12 Salvadorans and one each from Colombia and Ecuador.
Mexico's President Andrés Manuel López Obrador said the migrants had ignited a mattress to protest their pending deportations.
The President's comments drew rebuke from Catholics, who pointed out the migrants had been detained and were being blamed for their own deaths.
"Enough with the euphemisms. We must not accept nor tolerate soft expressions or decorous words that are given to what truly constitutes a detention centre, which does not offer dignified or safe conditions," the Guatemalan bishops' migrant ministry said in a March 27 statement.
A leaked video — authenticated by Interior Minister Adán Augusto López — showed guards seeming to walk away as the fire grew in ferocity. A desperate migrant kicked the door to no avail.
The tragedy underscored the difficulties confronting migrants trying to reach the United States via Mexico.
FULL STORY
Catholic leaders express sorrow, outrage over dozens of migrants killed in fire (By David Agren, OSV News)