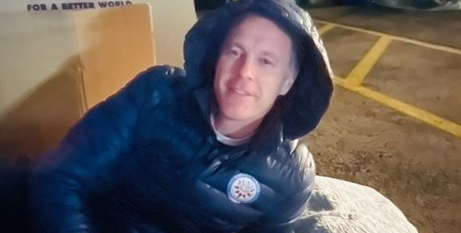 Chris Minns will be the first New South Wales premier to brave the cold alongside top business leaders when he takes part in the annual Vinnies CEO winter sleepout. Source: CountryNews/AAP.
Aiming to raise more than $10 million nation-wide to fund St Vincent de Paul homelessness services, the event is also a chance for the public and private sector to collaborate on solutions.
Mr Minns said it was an opportunity just for a brief period to experience what life is like for those who are homeless and sleeping rough.
"And that small bit of empathy is so important for a broader understanding that we live in a community, that we live in a society and it's everyone's obligation to do everything we can to reduce the amount of homelessness and housing pressure," he said.
Mr Minns kicked off the fundraising ahead of the June 22 event, announcing a $50,000 donation from the Premier's Discretionary Fund.
He will be joined by top executives from Lendlease, KPMG and other major firms that have the potential to make a difference in the housing sector.
St Vincent de Paul Society NSW chief executive Yolanda Saiz said with rising cost-of-living and housing pressures, many were seeking help for the first time.
The charity is calling on the NSW government to deliver 5000 new social homes a year to help address a 10-year waitlist for long-term accommodation.
FULL STORY
Premier to brave cold alongside business chiefs (AAP/CountryNews)