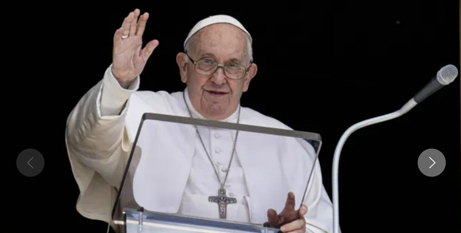 Despite its failures and imperfection, within the community of the Church is where one finds Jesus, Pope Francis said on Divine Mercy Sunday. Source: CNA.
Reflecting on St. Thomas the Apostle's initial doubt in Christ's resurrection, Francis asked: "Where do we seek the Risen One? In some special event, in some spectacular or amazing religious manifestation, solely at the emotional or sensational level? Or rather in the community, in the Church, accepting the challenge of staying there, even though it is not perfect?"
"Without the community," he emphasised, "it is difficult to find Jesus."
The Pope spoke about doubt and the Church to an estimated 20,000 people gathered in St Peter's Square yesterday. On Sundays during the Easter Season, in place of the Angelus he prays the Regina Caeli, a Latin antiphon honouring the Virgin Mary.
In his brief message before the prayer, Francis explained how Jesus' invitation to touch his wounds is not only for the "doubting apostle," but for us too.
"In reality, Thomas is not the only one who struggled to believe. In fact, he represents all of us a little bit," he said.
He noted that Jesus chose to appear to St. Thomas when he was with the community of the other disciples in the Upper Room, not when he was alone.
"Despite all of its limitations and failures, which are our limitations and failings, our Mother Church is the Body of Christ," he underlined. "And it is there, in the Body of Christ, that, now and forever, the greatest signs of his love can be found impressed."
Following his address, Pope Francis sent greetings to Eastern Catholics celebrating Easter on Sunday and expressed sorrow at the ongoing war and conflict being experienced by so many, including those in Ukraine. He also expressed his sorrow at the conflict that has erupted in South Sudan over the weekend.
FULL STORY
Pope Francis: Jesus is found in the community of the Catholic Church (By Hannah Brockhaus, CNA)
RELATED COVERAGE
Pope: Wars continue to sow death in stark contrast with the Easter message (Vatican News)
Pope Francis asks for prayers for Sudan as military factions battle for control (CNA)