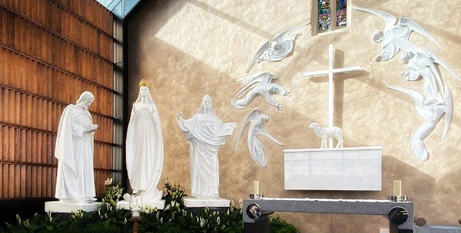 US President Joe Biden broke down in tears on the final day of his four-day trip to Ireland after a chance meeting with the priest who gave his son Beau the last rites before he died in 2015. Source: The Guardian.
Fr Richard Gibbons, parish priest and rector of Knock Shrine, said Fr Frank O'Grady – the chaplain who was by Beau Biden's side as he died – had moved to Knock to work there, leading to an unplanned meeting with the Mr Biden.
The death of his son, who was attorney-general for Delaware, had a profound impact on Mr Biden, who on Thursday told the Irish parliament that he hadn't intended to run for president in 2020 in the wake of his son's passing.
President Biden, who is wrapping up his trip to Ireland, made a private visit to the shrine, which is an important pilgrimage site for practising Catholics as it marks the spot where Mary, mother of Jesus, was supposed to have appeared on a wet, dark August evening in 1879.
He later visited a nearby County Mayo hospice, where he broke ground at its construction in 2017. A plaque on the ground at the entrance to the hospice is dedicated to Beau Biden.
FULL STORY
Joe Biden breaks down as he meets priest who gave his son the last rites (By Lisa O'Carroll and Rory Carroll, The Guardian)