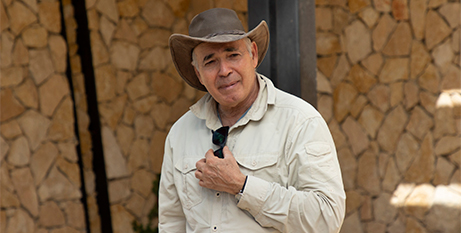 World-renowned archaeologist and scholar Yossi Garfinkel will visit Australia this month as the inaugural Australian Catholic University Sir Asher Joel Fellow.
Professor Garfinkel will deliver several public lectures, including The Sir Asher Joel Oration at the Sydney Jewish Museum on Thursday, April 20.
The lecture will explore the early kings of Judah: David, Solomon and Rehoboam. Professor Garfinkel and his team are excavating a historic city in Israel, which has given them unique insights into these ancient kingdoms.
The event is a collaboration of the Australian Catholic University, the Sydney Jewish Museum and the Australian Friends of the Hebrew University.
It will also feature the ACU's Gil Davis, who recently led a group of Australian students on a dig in Israel with Professor Garfinkel.
The archaeological dig at Tel Lachish in southern Israel provided students with a close-up view of the history they are studying.
ACU students worked on the site of an ancient Canaanite and Judahite city celebrated by Lord Byron in his poem The Destruction of Sennacherib.
The three-week tour was organised as part of ACU's new Ancient Israel Program led by Associate Professor Davis, which includes a full Major in the Archaeology of Ancient Israel and is offered as part of the university's Arts, Education and Biblical Studies disciplines.
The program has academic links with the Hebrew University of Jerusalem, Tel Aviv University and other international institutions.
FULL STORY
ACU Fellowship brings renowned Israeli archaeologist to Australia (ACU)