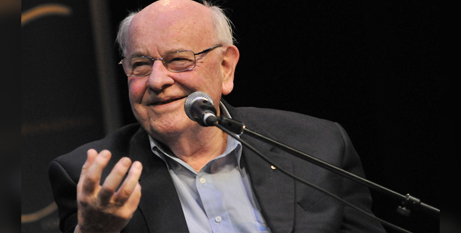 Parishioners and powerbrokers alike have paid tribute to Catholic priest, social justice campaigner and media personality Fr Bob Maguire, who died yesterday at the age of 88. Source: The Age.
Fr Maguire's charity work, advocacy for the poor and wicked sense of humour made him a popular figure in Melbourne and across Australia.
His family said Fr Maguire died at Cabrini Hospital in Melbourne yesterday morning.
"Fr Bob was a dear and much-loved member of our family and will be sorely missed for his energy and good humour. His physical and mental health had been deteriorating for some time, but his preference was always to help others rather than consider his own situation," his family said in a statement."
Prime Minister Anthony Albanese said on social media that Fr Maguire was "a man of warmth and faith who faced struggles with a cheeky grin. May he rest in peace."
Fr Maguire, who was ordained in 1960, was parish priest of Sts Peter & Paul's Catholic Church in South Melbourne from 1973 to 2012. He was appointed a Member of the Order of Australia in 1989 for service to homeless youth and was named Victorian of the Year in 2011.
He launched the Fr Bob Maguire Foundation in 2003 to provide food relief, social inclusion and educational support services "so that no one is left behind".
Speaking outside the Fr Bob Maguire Foundation office in Albert Park on Wednesday, board member Frank O'Connor said the priest's legacy was the care he gave to society's disadvantaged and marginalised.
Melbourne Archbishop Peter A Comensoli said he was saddened to hear of Fr Maguire's passing.
"Bob … [was] a fierce friend of the downhearted, the broken and the lost throughout his whole life," he said.
"Without a doubt, he was the 'larrikin priest' who had a great love for Jesus, who also lived with the outcast and the unloved."
FULL STORY
'A man of warmth and faith': Fr Bob Maguire dies aged 88 (By Lachlan Abbott and Nicole Precel, The Age)
Vale Fr Bob Maguire (Melbourne Catholic)
RELATED COVERAGE
'Pastor, prophet, poet, friend of the poor' – Fr Bob Maguire dies aged 88 (The Catholic Leader)
Archbishop of Melbourne pays tribute to 'larrikin priest' Fr Bob Maguire, who has died aged 88 (The Catholic Weekly)
Father Bob Maguire, charity campaigner and Catholic priest, dies aged 88 (ABC News)