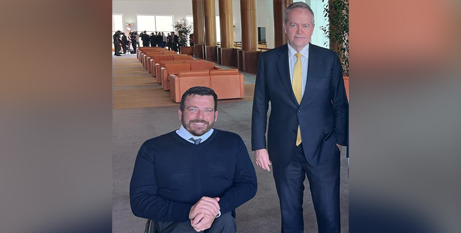 Vulnerable Australians are trying to balance their need for government-funded services while supporting moves to keep the National Disability Insurance Scheme financially stable to ensure future access. Source: Canberra Times.
The Albanese Government has put an 8 per cent cap on the scheme's growth each year by mid-2026, with the NDIS on track to cost the public purse more than $50 billion by 2025/26, overtaking annual spending on Medicare.
The chief executive of one of Australia's largest disability service providers, ARUMA, says the cap is necessary to maintain faith with the taxpayer.
"An 8 per cent growth cap guarantees the scheme's future both for people with a disability and for the taxpayer who knows the costs are being reined in," ARUMA's Martin Laverty said yesterday.
Dr Laverty said it would be challenging to keep the costs within the cap, but it could be achieved through an honest conversation about who the NDIS was for, what services it covers, how costs are shared and cutting red tape.
Chair of the National Disability Insurance Agency Kurt Fearnley vowed to keep vulnerable people at the heart of the disability program despite funding pressures on the scheme.
"So many people with disabilities, they hear the word 'cap' and shudder. I shudder," he told ABC radio.
"We are a demand-driven scheme. The target is a bit of a challenge."
The scheme was discussed by state and territory leaders at National Cabinet last Friday as governments work to make the scheme more financially sustainable. The Commonwealth is set to fund the majority of the scheme, instead of it being a 50-50 split with the states.
FULL STORY
Disability provider backs NDIS cap to protect services (By Dominic Giannini, AAP via Canberra Times)