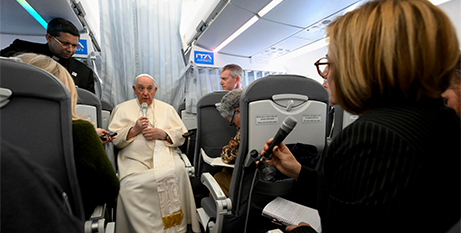 Pope Francis says he is working behind the scenes to bring peace to Ukraine and that the Vatican is willing to help mediate the return of Ukrainian children forcibly taken to Russia since the outbreak of war. Source: NCR Online.
While saying he needed to be discreet, the Pope said there are plans underway, including with individuals he met during his three-day visit to Hungary last week, to support his efforts to encourage peace in Europe.
"We must help so this doesn't become a justification for war," the Pope said on Sunday during a press conference on board the papal plane.
"All humanitarian gestures help. Gestures of cruelty do not help."
The Pope's remarks came on the flight to Rome after a delicate trip to the Hungarian capital of Budapest — a visit where he made repeated calls for an end to war and calling on Europe to unite together in hopes of peace.
On another sensitive geopolitical issue, the Pope said after last month's return of fragments from the Parthenon from the Vatican Museums to Greece that he remains open to making other acts of restitution.
"If you stole, you have to give back," he said. "What I did was the right thing to do."
The Pope noted that sometimes it can be politically or realistically difficult to navigate such demands, but "if a gesture is necessary, it's best to do it".
FULL STORY
Pope Francis says he is working behind the scenes in Hungary to bring peace in Ukraine (By Christopher White, NCR Online)
RELATED COVERAGE
Pope Francis says he did not lose consciousness before hospitalisation in March (CNA)