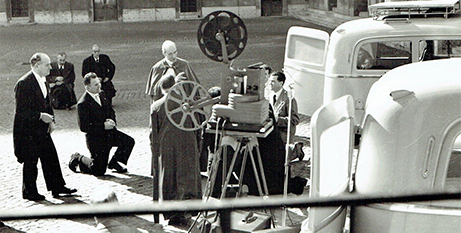 Pope Francis is calling for the commitment of the entire Church community to preserve the Church's historical audio-visual records. Source: Vatican News.
After having already discussed the topic in an interview with former Vatican communications chief Msgr Dario Viganò, granted for the book The Gaze is the Door of the Heart, the Pope turned to the topic once more in a message sent to the newly founded Italian Foundation MAC: Memorie Audiovisive del Cattolicesimo (Audiovisual memories of Catholicism).
Chaired by Msgr Viganò, the foundation was set up "to respond to the cultural urgency of the recovery, preservation and valorisation of the historical audio-visual heritage and the documentary heritage connected to it, relating to Catholicism".
The foundation's scientific committee met yesterday at the Vatican Apostolic Library, and Archbishop Angelo Vincenzo Zani, Church archivist and librarian and member of the scientific committee, read out the Pope's words.
The Pope wrote: "It seems significant to me that your institution, thanks to the involvement of the most important archival, film archival and academic institutions, proposes a vision and a method based on the sharing of heritage and the highest skills and resources at the service of the transmission of the audio-visual memory of Catholicism."
In his message, the Pontiff also said that he envisaged a path that could soon lead to the birth of an institution that would function as the central audio-visual archive of the Holy See and of the entire Church.
FULL STORY
Pope Francis: it is important to preserve the Church's audiovisual collections (Vatican News)