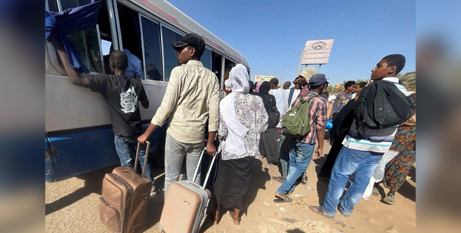 The people of Sudan are suffering and yearning for peace, according to Archbishop Stephen Ameyu Martin Mula of Juba Archdiocese in South Sudan. Source: The Tablet.
"In order to preserve the unity of the country, and not further the suffering of the people, we call for an end to the fighting and a return to dialogue," he said in a statement from the Catholic Conference of Bishops of Sudan and South Sudan.
A concern for churches follows reports that a rocket struck the Catholic cathedral in the diocese of El Obeid. The blast destroyed the front gate of the cathedral last week and shattered windows, as well as demolishing the priests' house.
Armed men also targeted the Anglican cathedral in Khartoum on April 17 and used guns to break into cars, reported Sudanese Anglican church officials. No one was hurt in either incident.
Since April 15, fighting between the Sudanese Government and the paramilitary Rapid Support Forces has gripped the country, triggering fears of a humanitarian crisis. The violence since then has killed at least 528 people and wounded 4599, the health ministry said on Saturday, but those figures are likely to be an underestimate.
Church sources report shortages of water and food. There is no running water in Khartoum and the electricity network is broken. This is not an ideological or religious conflict and all citizens from Muslim and minority Christian communities are equally affected. Lay people, priests and religious are unable to leave their houses. Masses in churches have been stopped, although communal prayers continue in some houses.
Waves of refugees from the cities are growing with the United Nations reporting approximately 75,000 people have been displaced by the fighting in Khartoum and the states of Blue Nile, North Kordofan, as well as the western region of Darfur.
FULL STORY
Sudanese Churches plea for an end to fighting (By Ellen Teague, The Tablet)