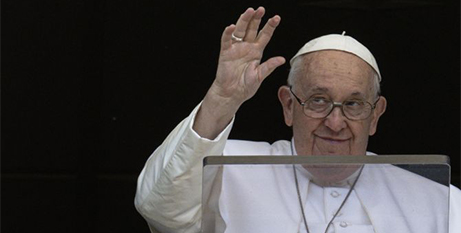 Pope Francis has warned against the danger of living life without a sense of purpose or a destination to set one's course by reminding the faithful that Jesus is "our compass for reaching heaven". Source: CNA.
Speaking to pilgrims gathered in St Peter's Square on Sunday to pray the Regina Caeli, the Pope reflected on the day's Gospel reading, in which Jesus consoles his disciples before his ascension, telling them, "I am the way, the truth, and the life" (John 14:6).
"Jesus sees the disciples' distress, their fear of being abandoned, just as it happens to us when we are forced to be separated from someone we care for. And so, he says: 'I go to prepare a place for you … that where I am you may be also," the Pope said.
"Jesus uses the familiar image of home, the place of relationships and intimacy. In the Father's house — he says to his friends, and to each one of us — there is space for you, you are welcome, you will always be received with the warmth of an embrace, and I am in Heaven to prepare a place for you!"
Pope Francis said that keeping in mind "where life is headed" is the way to get through the experiences of "fatigue, bewilderment, and even failure."
When we lose sight of what makes "life worth living for," he said, we "compress our life into the present," the Pope said. We merely seek maximum enjoyment and "end up living day by day, without purpose, without a goal."
"Our homeland, instead, is in heaven; let us not forget the greatness and the beauty of our destination!" he urged.
FULL STORY
Pope Francis: Jesus calls us to set our sights on heaven (By Rachel Thomas, CNA)