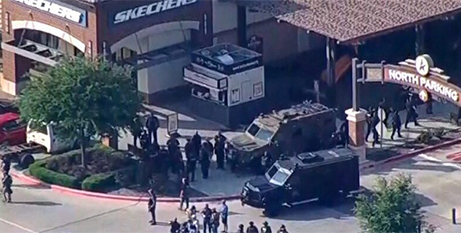 Dallas Bishop Edward Burns addressed the faithful of his diocese "with a heavy heart" on Saturday after at least eight people, including a child, were killed during a mass shooting that afternoon at a shopping centre in Allen, Texas. Source: OSV News.
"Like all of you, I am deeply troubled by the shooting in the community of Allen and the senseless disregard for life that has occurred in our community," Bishop Burns said in a statement.
"The Catholic community is in unity and solidarity with the families who have lost loved ones in this tragedy. May God, our Heavenly Father, bring comfort and strength to all affected by this tragic event. We ask God to comfort our community, the victims and their families."
Authorities said a gunman opened fire at the Allen Premium Outlets, a Dallas-area outlet mall, killing eight and wounding at least another seven people before being killed by a police officer who happened to be at the mall.
The Allen Police Department said one of its officers had already responded to the outlet mall on an unrelated call, when the officer heard gunshots shortly after 3.30pm. The department said this officer "engaged the suspect and neutralised the threat".
Victims range in age from 5 to 61 years old, authorities said. By midday on Sunday, authorities said they still had no information as to the shooter's motives.
"We must work for an end to the violence," Bishop Burns said in his statement. "We must pray for peace within our communities. And, we must have the courage to stand up to the forces of evil and the culture of death."
President Joe Biden said in a statement on Sunday that "eight Americans — including children — were killed yesterday in the latest act of gun violence to devastate our nation."
"Jill and I are praying for their families and for others critically injured, and we are grateful to the first responders who acted quickly and courageously to save lives," Biden said, adding he has "directed federal agencies to provide all needed support" to federal, state, and local law enforcement involved in the response."
FULLS STORY
Dallas bishop reacts to mass shooting at mall with 'heavy heart,' urges 'prayers for peace' in communities (By Kate Scanlon, OSV News)