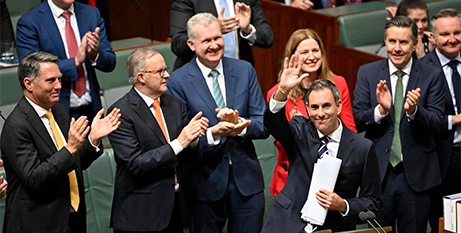 A modest increase in unemployment benefits and cheaper health care are the key pledges in a federal Budget tasked with helping the nation's most vulnerable as living costs continue to hurt households. Source: ABC News.
Treasurer Jim Chalmers' second Budget, which forecasts a surplus this year, seeks to tackle women's inequality, reduce inflation and lay the foundations for growth as the global economy slows.
The Budget sees the JobSeeker unemployment rate rise $2.80 a day, rent assistance increase up to $15 a week and single parents will be $380 a month better off.
Surging commodity prices and low unemployment have bolstered the bottom line but Mr Chalmers is warning that tougher days are still on the horizon.
The headline of the Budget is the Albanese Government's $15 billion cost-of-living package, which the Treasurer insists will help lower inflation.
As was previously announced, the Government will spend $1.5 billion on energy bill relief, teaming up with states and territories to offer one-off bill deductions of up to $500 for 5 million households.
That support will go to people who receive government welfare payments and about 1 million small businesses.
Children under 16 years old, pensioners and other concession holders will gain greater access to free GP visits in what the Government is calling the largest-ever expansion to bulk billing.
More than 900,000 Australians on JobSeeker will get an extra $40 a fortnight. That increase falls short of recommendations by unions, business and social services experts who wanted the JobSeeker rate to be raised to 90 per cent of the aged pension.
Renters on government support will also gain a boost, with the government increasing the maximum rate of Commonwealth Rent Assistance by 15 per cent.
The Government has pledged to end violence against women within a generation, and allocated more than $500 million in new measures, about $200 million of which will be targeted towards First Nations women.
The Budget forecasts a lower-than-expected spend on the aged-care sector, which the Government says is the product of keeping more people in their homes, and out of aged-care homes, for longer.
FULL STORY
Federal Budget increases JobSeeker and welfare payments as living costs bite (By Brett Worthington, ABC News)
RELATED COVERAGE
The five-minute Budget: Everything you need to know (The Age)
Federal Budget 2023: Treasurer Jim Chalmers describes 'complex balancing act' (The Australian)