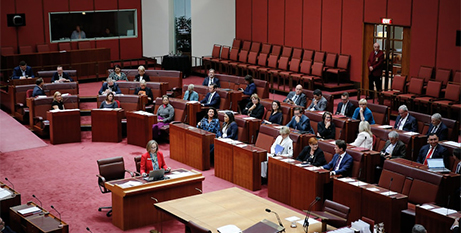 The Greens and Coalition have joined forces in a move that leaves the Albanese Government's $10 billion housing policy plans at a major roadblock. Source: ABC News.
The Government had sought to pass legislation establishing the Housing Australia Future Fund this week but is facing entrenched opposition from both the Coalition and Greens.
For two days, Labor unsuccessfully tried to limit the debate and bring it to a final vote, despite the near certainty the bill would fail.
The Greens and Coalition teamed up yesterday to prevent the Government from doing so, prompting fiery exchanges on the floor of the Senate.
"How cynical," said the Government's leader in the Senate, Penny Wong, aiming her comments at the Greens.
"At least have some courage. Either vote for it or vote against it."
Greens senator Nick McKim later argued the bill simply isn't ready to vote on.
The Coalition and Greens together ensured the bill won't be considered again until mid-June, at the earliest.
The Coalition argues the fund will worsen inflation, while the Greens are calling for a range of changes, including significantly increased spending on housing and increased support for renters.
It's a blow for the government, given the Housing Fund is a key election promise now facing a very uncertain future.
The Housing Australia Future Fund would invest $10 billion dollars and use the returns on that investment to build social and affordable housing.
The $10 billion itself won't be spent building housing — it'll be invested. It's the money made on top of the $10 billion that will be spent on housing.
The Government says the fund would see 30,000 social and affordable homes built in its first five years.
FULL STORY
Greens and Senate unite to kick $10 billion Housing Australia Future Fund to the long grass (By Tom Lowrey, ABC News)