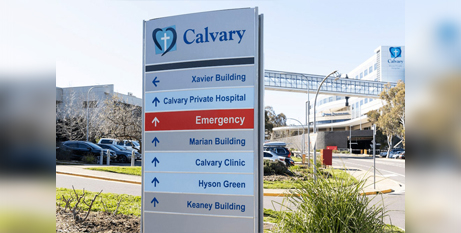 Opposition Leader Peter Dutton has urged the ACT Government to reverse its decision to take over Calvary Public Hospital Bruce. Source: Canberra Times.
Mr Dutton said he was "shocked" by the proposal, calling it an "attack on religion".
"I'm just not aware of an action like it elsewhere in the country or, frankly, around the world, where a government has taken a decision based on their opposition to a religion, or to compulsorily acquire a hospital in these circumstances, a facility that's working well, and in the greater public interest, and good in a local community, and just for ideological reasons," he said on radio station 2CC.
"I think it's quite remarkable, and I think it's regrettable, and I hope the Chief Minister can see past the advice and reverse the decision."
ACT Health Minister Rachel Stephen-Smith responded: "The ACT Government has been very clear this decision was not based on religious reasons."
Mr Dutton's attack on the policy of the ACT Government followed an intervention by one of his predecessors as Liberal leader.
On Thursday, former prime minister Tony Abbott labelled the ACT Government "overbearing and arrogant".
One of Canberra's most prominent doctors was also scathing in his attack on what he perceived as the managerial record at Canberra Hospital, which the ACT Government runs.
Dr Paul Burt, former head of the anaesthetics departments at both Canberra Hospital and Calvary, accused the ACT Government of "dubious managerial competence" in its management of the health service it currently runs.
In an opinion piece for The Canberra Times, Ms Stephen-Smith said the Government had warned Calvary last year compulsory acquisition was an option if negotiations failed.
But Calvary executives said the organisation was only told last Monday about the decision to compulsorily acquire the hospital. Calvary Health Care chief executive Martin Bowles said he had not heard from the Government in nearly six months before that.
FULL STORY
Peter Dutton critical of ACT Government's Calvary Public Hospital Bruce takeover (By Steve Evans, Lucy Blades and Lanie Tisdale, Canberra Times)
RELATED COVERAGE
Calvary committed to serving the Territory | Martin Bowles (Calvary)
Archbishop Prowse: Calvary Hospital (Catholic Voice)
Enough is Enough (Catholic Voice)
'Shocked' Calvary Public Hospital Bruce doctors concerned with Canberra Health Services management, culture (Canberra Times)
Why the forced acquisition of Calvary Public Hospital Bruce will be a messy battle (Canberra Times)