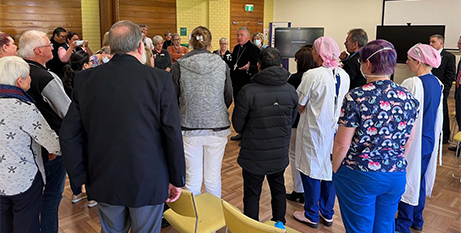 Canberra-Goulburn Archbishop Christopher Prowse has called for new discussions to "resolve difficulties respectfully" as the ACT Government's plan to compulsorily acquire Calvary Public Hospital Bruce begins to reverberate around the country. Source: Catholic Voice.
"I know there's been difficulties, but let's make a fresh start. I want to announce that we're prepared to go backwards and start looking at this matter in a fresh way," Archbishop Prowse told the Canberra Times on Friday.
The Church was considering all legal possibilities but was not rushing to court action, the archbishop said.
"Let's rush to common sense," he said, before declining to rule out future legal challenges.
Archbishop Prowse made a pastoral visit to hospital staff on Friday. He called on the Barr Government not to diminish Canberra's dignity and respect for choice in health facilities.
"Calvary is part of the greatness of Canberra," Archbishop Christopher Prowse said. "For 44 years, it has offered a touch of human transcendence – from conception to natural death."
"If this goes ahead, it will be the first time in Australia's history that a federal state or territory government has engaged in a hostile takeover of a Church institution," he said.
During the pastoral visit, Archbishop Prowse thanked the Calvary Hospital staff for their invitation to visit and to listen to their concerns.
As he moved around the room, speaking to doctors, nurses and administration workers, the staff expressed a deep sense of shock and betrayal.
Many feared the Government's compulsory takeover would "erode the hospital's core values". They also said the lack of transparency and consultation with the ACT Government had "stirred up concerns for their future employment".
"We feel voiceless," expressed one staff member. "When we get told by the ACT Government 'not to worry about it,' we feel patronised. Although we give 100 per cent to our work, we now have to navigate the uncertainty of our jobs and the lack of information."
FULL STORY
Calvary Hospital's hostile takeover, a first in Australian history (Catholic Voice)
Archbishop Christopher Prowse wants negotiations with ACT Government on Calvary future to restart (Canberra Times)
RELATED COVERAGE
Failed religious discrimination bill 'relevant' in hospital takeover, says Michaelia Cash (The Australian)