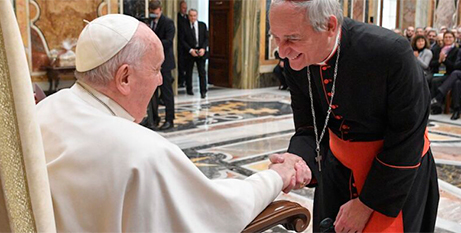 Pope Francis has asked Italian Cardinal Matteo Zuppi of Bologna to lead a mission "to help ease tensions in the conflict in Ukraine". Source: OSV News.
The appointment of the cardinal, who is president of the Italian bishops' conference and a long-time member of the Sant'Egidio Community, was confirmed on Saturday by Vatican press office director, Matteo Bruni.
While Mr Bruni said "the timing of such a mission and its modalities are currently being studied," he said Pope Francis has never lost hope that some kind of dialogue could "initiate paths of peace".
By referring to Cardinal Zuppi's task as a "mission", Mr Bruni appeared to affirm that it was the same peace mission Pope Francis was referring to on April 30 when he told reporters returning to Rome with him from Hungary that he had a plan underway.
Spokesmen for the Ukrainian and Russian governments denied knowing anything about the Pope's plan, although Cardinal Pietro Parolin, Vatican secretary of state, insisted they had been informed.
Pope Francis met Ukrainian President Volodymyr Zelenskyy at the Vatican on May 13. Mr Zelenskyy tweeted that he asked the Pope "to condemn Russian crimes in Ukraine. Because there can be no equality between the victim and the aggressor". The Ukrainian leader also said he reiterated his insistence on a "just peace" that involves Russia leaving all the Ukrainian territory it occupies.
Cardinal Zuppi, 67, has been involved with the lay Community of Sant'Egidio for almost 50 years. The community serves the poor, the elderly and has served as a mediator and hosted several formal peace talks, including the talks that in 1992 led to the end of the civil war in Mozambique. Cardinal Zuppi, a parish priest at the time, was involved in the negotiations.
FULL STORY
Pope asks Cardinal Zuppi to lead peace mission for Ukraine (CNS via OSV News)