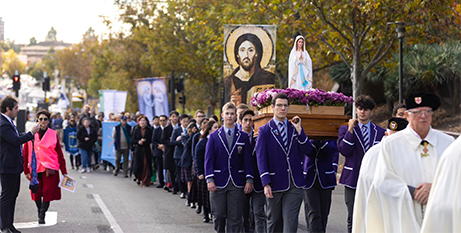 An estimated 2000 Catholics from parishes and migrant communities took to city streets on Sunday to participate in the Adelaide Archdiocese's 74th annual Marian Procession. Source: The Southern Cross.
One of the state's largest and longest-running religious festivals, the colourful procession began at the Pioneer Women's Memorial Garden and proceeded along King William Street to Victoria Square for the prayer service.
Showers in the morning didn't deter people from joining in the first Marian Procession to be held in the heart of the city. Participants recited the Rosary as they marched behind banners and members of migrant communities wore traditional costumes.
More than $7100 was donated to Caritas Australia during the event.
Fr Christopher Maher OFM Cap delivered the reflection on the theme of this year's procession, the Feast of the Visitation. He said the image of our Blessed Mother and Elizabeth embracing each other is one of his favourites.
"When I pray the Rosary and announce a mystery, a certain feeling comes, depending on the mystery," he said.
"The second Joyful Mystery is one of comfort and excitement. There is a purity and simplicity which is so refreshing in this troubled world, and Mary is on the move with our Lord."
He concluded his reflection by encouraging those attending to "keep moving with our Lord".
"Our Lord was with Mary, in her womb, and on the Feast of the Ascension, we rejoice in His presence throughout the world, particularly in the Holy Eucharist and today, where two or more are gathered," he said.
"Mary still had a challenging journey ahead of her and so do we. However, not only do we celebrate the Lord's presence, but He also offered His mother to become our mother, to be our help on the journey. And Mary would tell you: 'Listen to Him'."
FULL STORY
City procession honours Mary (By Jenny Brinkworth, The Southern Cross)
RELATED COVERAGE
Bishop Richard Umbers: Let's bring back processions (The Catholic Weekly)