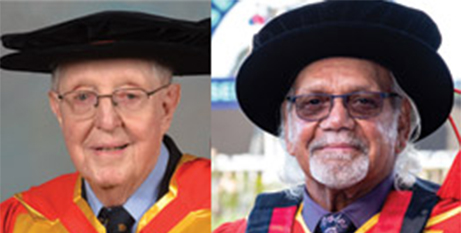 Australian Catholic University has conferred a Doctor of the University (Honoris Causa) to a priest who has dedicated his life to anthropology and to a respected Koori historian and researcher.
Fr Gerald Arbuckle SM, who is originally from New Zealand but a member of the Marist Fathers' Hunters Hill community, and Uncle James Wilson-Miller, were awarded honorary doctorates in separate ceremonies on May 18.
In receiving the honorary doctorates, both men reflected on the individuals who most influenced their endeavours.
For Fr Arbuckle, who will be 89 this year, it was his congregation's superior who encouraged him to study social science. This led him to being the only priest studying cultural anthropology at Cambridge University.
"When I first started anthropology, people were enormously surprised. It was a little-known discipline even in Cambridge in those days. It was considered a fringe subject, of little use to economists, investors, and others in the modern world. But not now," Fr Arbuckle said.
"Its cultural insights assist people to understand hidden forces shaping their daily life, no matter what their role is in society. This doctorate acknowledges the helpful role cultural anthropology now plays in the study of society and the Church. I am most encouraged that this has happened."
For Mr Wilson-Miller, the honorary doctorate is a humble tribute to three women in his life, including his grandmother Jean.
"Even as limited as she was in education, she certainly made sure I could read and write by encouraging me to go to school," Mr Wilson-Miller said.
Born in Sydney in 1949, Mr Wilson-Miller has established himself as a respected Koori historian and researcher, an experienced Aboriginal tertiary educator, and award-winning author of Koori: A Will to Win – The Heroic Resistance, Survival and Triumph of Black Australia.
FULL STORY
Anthropologist priest and renowned Gringai man awarded Honorary Doctorates (ACU)