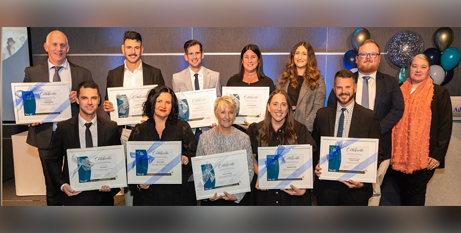 Nine leading South Australian educators, including one who helps students raise chickens called Hennifer Lopez and Eggie Betts, were recognised at the annual Catholic Education Awards ceremony. Source: The Southern Cross.
The awards recognise outstanding achievements and contributions by staff and volunteers across South Australia's 101 Catholic schools.
Those honoured include Nick Mezzino, an educator with a passion for the environment and a sense of humour. Mr Mezzino won the new Laudato Si' Award for his sustainability projects including vegetable and butterfly gardens, a worm farm and imaginatively named chickens.
Other award winners were:
• Early Career Teacher (Primary) – Jared Centenera, Saint Ignatius' College.
• Early Career teacher (secondary) – Nathan O'Brien, Caritas College in Port Augusta
• Experienced teacher (Primary) – Madeline Cole from St Michael's College
• Experienced teacher (secondary) – Ruth Taylor, Thomas More College.
• Volunteer – Louisa Scopacasa , Our Lady Queen of Peace School.
• Education support – James Lodge, a laboratory manager, was recognised for more than 20 years of work above and beyond his role which includes an aquaculture program and supporting school partnerships with Indigenous communities.
In addition, Kildare College's Graduate Program (led by Raymond Kropinski) received the Innovative Program Award and Susan Young was recognised for her leadership and lifelong contribution to Catholic Education SA.
The award ceremony was held at Hilton Adelaide on May 18 following Mass celebrated by Archbishop Patrick O'Regan in St Francis Xavier's Cathedral.
John Foley, assistant director, Catholic Education South Australia, said the awards "shine a light on the incredible passion of our staff and volunteers".
"The awardees demonstrate the extraordinary outcomes that can be achieved when people are dedicated and passionate about teaching and learning," he said.
FULL STORY
Dedicated educators recognised (By Jenny Brinkworth, The Southern Cross)