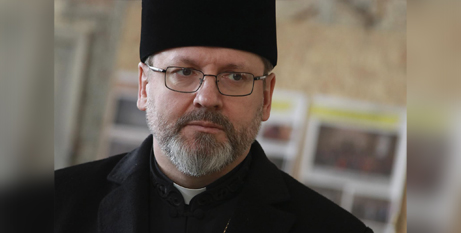 The head of Ukraine's Greek Catholic Church has demanded an end to Russia's overnight missile strikes, as the Vatican outlined plans to send a "peace mission" to the warring sides. Source: The Tablet.
"Unfortunately, this war is not only continuing – we are witnessing a new stage in its escalation, with some 18 million people needing urgent humanitarian assistance in Ukraine today", Major Archbishop Svetoslav Shevchuk of Kyiv-Halych said in a national message yesterday from a synod meeting of bishops at Zarwanica.
"I ask all people of goodwill across the world, heads of churches and religious organisations to make a global appeal to the Russian president, to Russian war criminals, to stop the overnight war crimes against Ukraine immediately.
"Your voice will save dozens, hundreds of civilian lives."
The archbishop said Russia's missile and rocket attacks had increased dramatically against Kyiv, Kharkiv and other cities, worsening food and water shortages across his country and leaving children as the "most defenceless group" in society.
He added that President Volodymyr Zelensky's 10-point peace plan represented "elements necessary for the Ukrainian people's survival" and also expressed different aspects of a humanitarian crisis requiring "an immediate response".
At the weekend, the Vatican's press office confirmed the Pope had asked Cardinal Matteo Zuppi to lead a mission to "help ease tensions" and "initiate paths of peace" in Ukraine.
FULL STORY
Archbishop demands end to Russian missile attacks (The Tablet)