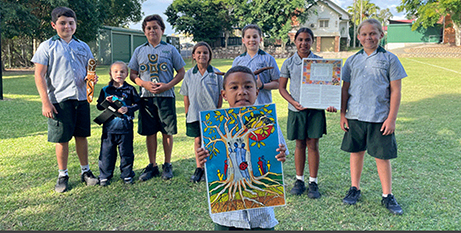 Brisbane Catholic Education has announced a First Nations language curriculum aimed at empowering its 77,000 students to engage authentically and sensitively with Aboriginal and Torres Strait Islanders and communities. Source: The Catholic Leader.
This National Reconciliation Week, from May 27 to June 2, BCE shared its new whole-system approach to teaching First Nations languages across its 146 schools.
Aboriginal and Torres Stair Islander Education senior manager and Gamilaraay and Yuwalaraay woman Mayrah Dreise said BCE used the Australian Curriculum Assessment and Reporting Authority framework and consulted with Ngutania-Lui Cultural Centre Aboriginal and Torres Strait Islander staff members to create the system-wide approach.
"It creates a real sense of genuine connection between our students and their local First Nation peoples and language groups, empowering our students to continue to build strong bonds with local Aboriginal and Torres Strait Islander communities," Dr Dreise said.
"Students from as young as prep will learn about Aboriginal and Torres Strait Islander song, dance, art, and language within a context which makes sense to their geographic location and connection to local First Nations peoples and groups.
"As the curriculum progresses into the senior years, our Year 9 and 10 students learn about the impacts of language loss and separation from country, family, and community for Aboriginal and Torres Strait Islander peoples."
Dr Dreise said it was important all BCE students have the knowledge to preserve Aboriginal and Torres Strait Islander languages and culture for future generations.
FULL STORY
Brisbane Catholic Education empowering its schools to teach First Nations languages (The Catholic Leader)